View cart
"Nexatec NXT 70HV Digital Metal Gear Servo – Pack of 4 servos" has been added to your cart.
NXT-200HV digital super-torque metal case and gears servo
Take your 60" plane to a whole new level!
These servos are now part of the iPAs set up of the Addiction XL, AMR 60 and XR61!
Perfect match for any 60" class plane
Time until Black Friday sale ends!
SKU: N/A - Need Help? Contact Us Leave Feedback
Categories: Hot Deals, Ultimate AMR 60 Spare Parts, Servos, Extra MX Spare Parts, Katana MX Spare Parts, XR-61 / XR-61T Spare Parts, Addiction XL Spare Parts
Tags: electronics, 5245, 7245, nxt, 5085, nexatec, nxt-100, hitec, nxt100, mks, servo, futaba, spektrum, radio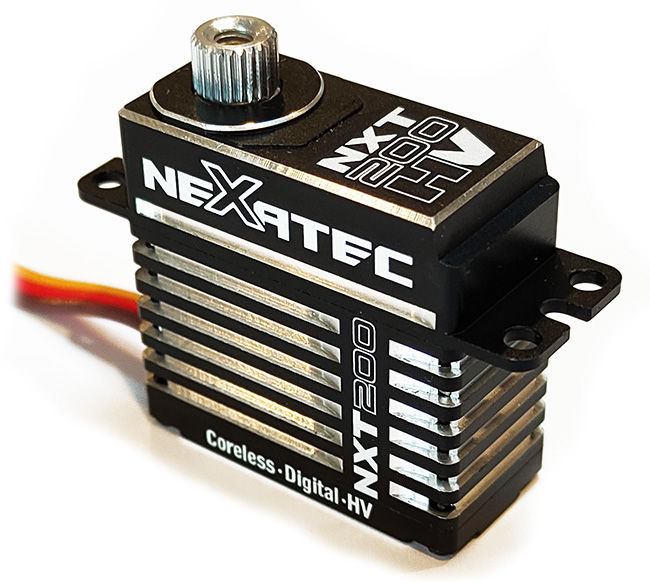 After many months in development, we are proud to present the next generation of servo technology, bringing a whole new level of performance and precision to our iPAs set up.
The New NXT-200HV servos were designed from the ground up to completely revolutionize mini servos – resulting in the most powerful, lightweight, fastest and most precise servo in its class. The NXT-200HV is a direct replacement (and a huge upgrade) to the successful NXT-100HV.
These servos will respond to every stick movement with zero delay resulting in an extremely responsive control surfaces performing exactly what you were aiming for, taking your flight to a level you have never experienced before.
With a BRUTAL holding torque, dual ball bearings, full metal CNC machined case and gears, newest generation digital processor, the tightest production tolerances possible and strict quality control – it is guaranteed to become the most popular servo in its class!!
In a long development process of design and engineering, static and in-flight testing, data analysis and re-testing we achieved the ultimate performance we aimed for and managed to raise the bar once again. After months in the process, we can guarantee – these servos tick all the boxes!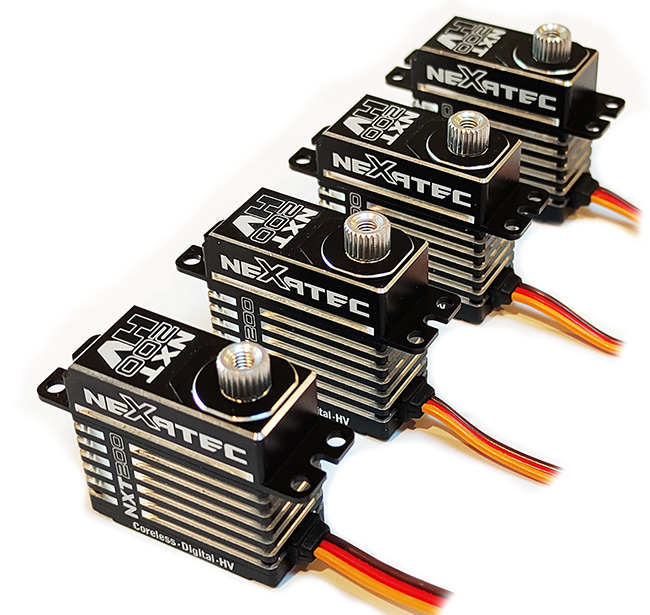 Even if you already own the NXT 100 – don't miss out! when you upgrade from a previous generation you can truly appreciate the unparalleled torque, speed and precision these servos offer. You will be amazed how the very same aircraft feels in the air when equipped with the NXT-200HV.
Hands down, the NXT-200HV is the most powerful, lightweight, high-performance servo in its class.
• Highest torque in class
• Full aluminum CNC machined case
• Hyper cooling ridges
• Digital
• High Voltage
• High speed
• High precision
• High performance coreless motor
• Heavy duty Fully metal geared
• Dual ball bearing
• Super smooth and quiet
Specifications: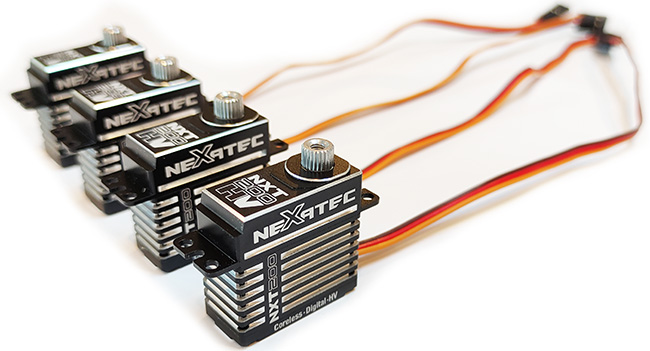 | | |
| --- | --- |
| Servo Arm Spline: | 25T |
| Torque (6.0V): | 152.76oz/in (11kg/cm) |
| Torque (7.4V): | 191.64oz/in (13.8kg/cm) |
| Torque (8.4v): | 209.70oz/in (15.1kg/cm) |
| Speed (6.0V): | 0.141sec/60° |
| Speed (7.4V): | 0.116sec/60° |
| Speed (8.4v): | 0.101/60° |
| Dimensions (Mounting H x L x W): | 0.71×1.10×0.50in 18.0x28x12.6mm |
| Weight: | 23.4g(0.83oz) |
"I believe this is the best servo I have ever used on an electric plane. Has a lot of power behind it and has no problem I have experienced with similarly sized servos. They move quicker and allow the plane to move quicker and allows me to react quicker. They are extremely powerful. I would highly recommend it to anyone"
Alex Fredrickson
"The NXT-200HV servos take the XR-61 to a new level of excellence!! Super smooth, powerful and precise."
Neal Smalley