Nexatec NXT 100HV Digital Super Torque Metal Gear Servo
This servo is now discontinued and has been replaced with the new NXT-200HV!
Out of stock
Notify me when the item is back in stock.
SKU: AC-2332 - Need Help? Contact Us Leave Feedback
Categories: Ultimate AMR 60 Spare Parts, Servos, Extra MX Spare Parts, Katana MX Spare Parts, XR-61 / XR-61T Spare Parts, Addiction XL Spare Parts
Tags: hitec, nxt100, mks, servo, futaba, spektrum, radio, electronics, 5245, 7245, nxt, 5085, nexatec, nxt-100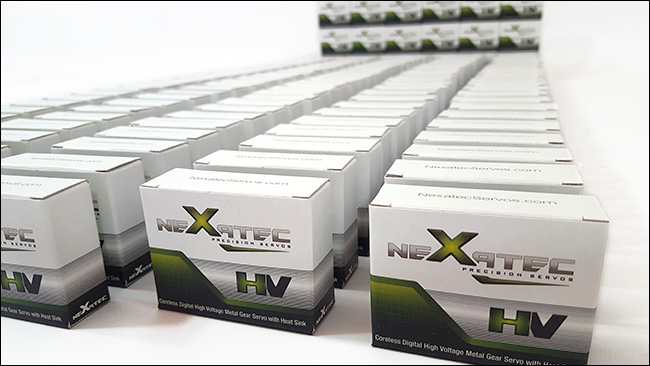 After months in development we are proud to present the new NXT-100HV digital servos, as a direct replacement (upgrade) to the successful NXT-90HV.
In a long development process of engineering, static and in-flight testing and data analysis we tested multiple styles of motors and various gear ratios until we achieved the excellent performance we aimed for and managed to raise the bar once again.
The NXT-100HV is one of the most powerful, light weight high performance servo in its class.
With an outstanding holding torque, dual ball bearings, digital controller, tight production tolerances and extremely tempting price tag, it is guaranteed to become one of the most popular servos in its class!!
Features:
Strongest servo in its size
High Voltage
Precision
High Speed
Digital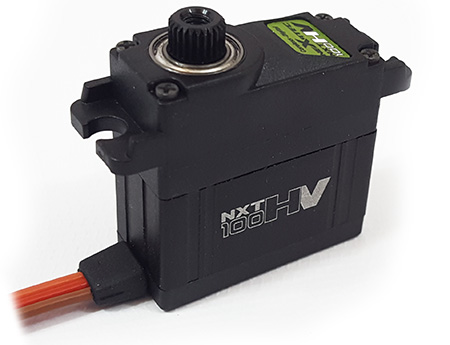 Dual ball bearings
Coreless motor
Full Metal gears
Heat Sink
Specifications:
| | |
| --- | --- |
| Torque (6.0V): | 106.2oz/in (7.65kg/cm) |
| Torque (7.4V): | 122.2oz/in (8.8kg/cm) |
| Torque (8.0v): | 134.7oz/in (9.7kg/cm) |
| Speed (6.0V): | 0.16sec/60° |
| Speed (7.4V): | 0.13sec/60° |
| Speed (8.0v): | 0.12/60° |
| Size (Mounting H x L x W): | 0.85×1.14×0.52in (21.5x29x13.1mm) |
| Weight: | 22.3g(0.78oz) |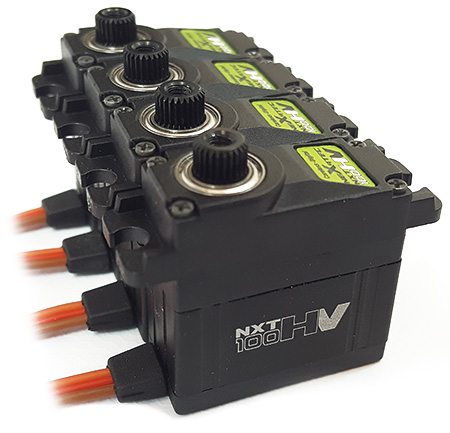 Testimonials:
I have been test flying the new NXT100HV servos, and right from the first flight I could feel the difference. It is the most precise and crisp servo I have ever tried in its size. It makes the airplane fly more precise and agile than ever. You can control the stops in snap rolls and point rolls a lot easier, also you can feel the super high torque they have when doing fast speed rolls which gives you a lot more confidence executing and experimenting new maneuvers you didn't dare trying before.
High energy maneuvers are easier to perform and are more aggressive than ever! There is absolutely no hint of blowback no matter how fast you are flying! The high holding torque allows beautiful high-speed consecutive rolls from start to end.
Very impressive servos! 100% recommended.
Daniel Dominguez
I believe this is the best servo I have ever used on an electric plane. Has a lot of power behind it and has no problem I have experienced with similarly sized servos. I would highly recommend it to anyone
Alex Fredrickson
These servos are phenomenal!
Ang Leo

Related Products
Ultimate AMR 60 Spare Parts, Servos, Addiction X Spare Parts, Addiction Spare Parts, Extra MX Spare Parts, Extra 260 Spare Parts, Katana 52 Spare Parts, Electric Shock Spare Parts, Ultimate AMR Spare Parts, Katana MX Spare Parts, XR-61 / XR-61T Spare Parts, XR-52 Spare Parts, Addiction XL Spare Parts, Katana Mini Spare Parts

$

3.75