Nexatec NXT 80HV Digital Metal Gear Servo
This servo is now discontinued and has been replaced with the new NXT-180HV!
Out of stock
Notify me when the item is back in stock.
SKU: AC-2334 - Need Help? Contact Us Leave Feedback
Categories: Servos, Extra 260 Spare Parts, Katana 52 Spare Parts, XR-52 Spare Parts
Tags: electronics, 5085, hs-65, nxt, hs-5070, nexatec, hs-70, hitec, 85mg, mks, servo, futaba, spektrum, radio
Features:
Strongest servo in its size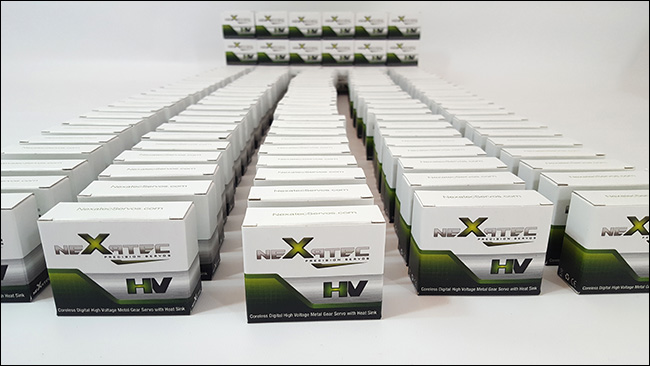 High Voltage
Digital
Dual ball bearings
Coreless motor
Full Metal gears
Heat Sink
Specifications:
| | |
| --- | --- |
| Torque (6.0V): | 62.5oz/in (4.5kg/cm) |
| Torque (7.4V): | 72.2oz/in (5.2kg/cm) |
| Speed (6.0V): | 0.16sec/60° |
| Speed (7.4V): | 0.13sec/60° |
| Size (Mounting H x L x W): | 0.75×0.91×0.47in (19×23.1x12mm) |
| Weight: | 14.9g(0.52oz) |
Testimonials
I have been using the NXT line of servos for a few years now, and let me tell you, i'm totally surprised, they have the power to change the way your plane flies completely. Your plane will tumble harder than ever, track straighter than ever, mark point rolls better, snap rolls with better stops and your flying will look better than ever. Right from the first time i flew this servo i could feel a whole difference in the airplane, the authority of all the control surfaces went up!! this servo has twice the torque of a normal servo in this size! also the precision of the servo is there and it really makes you feel connected to the airplane! Overall i'm really happy with this servos and i recommend everyone to give them a try!
Daniel Dominguez AKA aerofundan
I have been using these servos and testing them for a few months. The direct comparison with others in this range is amazing. They center perfectly, which is a very important benefit, especially in this size servo. They are strong, blazing fast and accurate. They are a better servo. Clearly better than anything in their class.
Michael Wargo
"finally! the wait is over for real high-performance servos in this class.. Extremely smooth, accurate & STRONG.. these are nearly twice as powerful as most alternatives! They will be the obvious best choice for so many other applications than aerobatic planes, like 450 class helis & 70mm edf jets "
Natesh Shankaraanand
Related Products
Ultimate AMR 60 Spare Parts, Thrust Motors, Thrust Motors Spare Parts, Prop Adapters, Addiction X Spare Parts, Addiction Spare Parts, Extra MX Spare Parts, Extra 260 Spare Parts, Katana 52 Spare Parts, Electric Shock Spare Parts, Ultimate AMR Spare Parts, Katana MX Spare Parts, XR-61 / XR-61T Spare Parts, XR-52 Spare Parts, Addiction XL Spare Parts, Katana Mini Spare Parts

$

7.95