Ultimate AMR 60

Choose your options:
Description
A few words from Shaun, the designer and PA chief engineer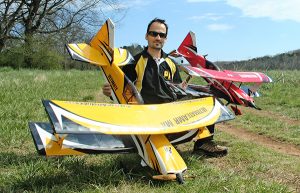 AMR 60 was designed in mind as a competition class bi plane and NOT a park flyer. Built strong and precise with high technology engineering, the end result being THE lightest bi-plane ever made in mass production. The flight envelope is incredibly wide from high speed super energy aerobatics to crawling super solid harriers and landings. That allows ANY pilot to confidently fly and enjoy the AMR 60, regardless of their piloting skills. The AMR 60 simply breaks the known barrier most biplanes earned for their high speed landing and rapid stalls. No time or money was spared in the process of the design to the production. I was extremely picky while selecting every tiny bit whether it was a small nut or bolt, to the hinges of which we tested six different materials to get the best stiffness.
I had a lot of challenges during the design which made it my toughest project to date. The battery compartment and the ease of installing and removing the batteries was one. Also the hatch design and ease of installation. The quick installation system for the wing was a big challenge. There's a lot of difficulty in the production process which makes this plane extremely expensive to produce at the high level we set.
The end result is an exceedingly enjoyable plane to assemble, transport and fly.
The extremely detailed and user friendly manual took hundreds of hours to complete but the idea is to allow ANYONE to assemble the plane with ease.
AMR60 can be flown as an excellent sport plane, IMAC practice plane or the most energetic extreme 3D plane. All you need to do is to set up high and low rates (preferably three rate switch). Its large size and vibrant color scheme allow excellent visibility and orientation in flight. I find it one of the most graceful aerobatics planes to fly, even if you just perform basic aerobatics like rolls and loops. It's super smooth and precise.
I designed the AMR 60 from the ground up ignoring the full scale Ultimate aerodynamic design, however, at the same time I did a HUGE amount of research on all version of the Ultimate ever made and took every tiny bit I liked along my own lines and combined them into a fine looking, highly modified Ultimate. By looking at it, it feels like an Ultimate, however it is far from being scale. It exhibits no KE coupling, extreme maneuverability with unprecedented stall characteristics which will allow the pilot to perform every maneuver they can come up with.
Due to the challenges of the design and the targets we wanted to achieve, this project development and design spanned over more than 5 years. We went back and forth to the drawing board with new ideas refining the design each time to complete this model which is a real engineering achievement.
To name just some of the targets: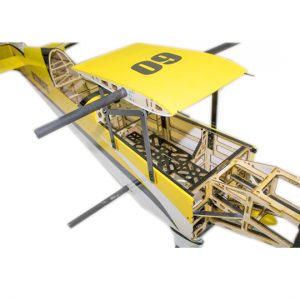 Just a few minutes to assemble at the field, which are easily transportable even in a small car – Shaun developed the IWRS (innovative wing removal system) which requires only two bolts for the bottom wing, and two carbon retaining pins for the top wing.

Unbelievable low flying weight for optimal wing loading and flight performance. The AMR 60's all up weight is about half of competing brands which makes it the lightest bi-plane ever made.
Built extremely accurately with pre-set wing incidence (done twice, before and after the covering process). Wings and CF tabs are preinstalled in the factory to ensure excellent alignment and fit. All you need to do is bolt on the wings.
Unmatched flying characteristics – no gyro is needed!!
Simple and efficient control surfaces set up using only 4 powerful, yet economical servos.
New airfoil specifically designed, tested and refined for this airframe to achieve the performance target.
Unique aileron design enhances aerodynamic airflow and control efficiency, complimented by the optional carbon fiber Vortex generators.
Wing carry jigs and deflection meter are included with the kit.

Top quality unique wing bags specifically designed for the AMR 60.
Assembly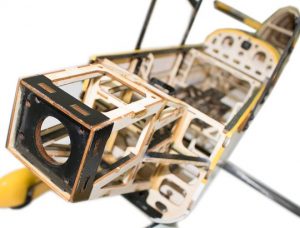 It was our target that the assembly will be easy for the modeller and requires only a few evenings.
The instruction manual is the most detailed you'll find and takes you step by step with high quality large images and attention to details that simplify the process (example- CG set up by inserting a fishing line through a designated hole in the cabane struts – no measuring required).
No pull-pull on the rudder, we were able to accomplish having the rudder servo on the tail with a direct drive, special oversize carbon fiber pushrod, to provide maximum strength and zero flex for best flight performance.
The ailerons are already pre-hinged with the gaps sealed and as such assembling the wing is quick and easy.
Elevator/stabilizer hinge slots are pre-cut and ready for you to glue the hinges.
SET UP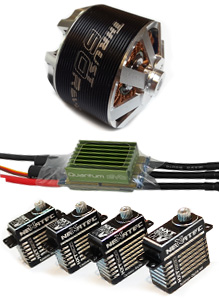 Unlike others we don't offer our team pilots superior gear and sell you cheaper stuff – what you see in our flying videos is what you get!

Truly powerful set up:
We raised the bar once again making the lightest and most powerful motor in its class!

the Thrust 60 Revo 24 poles with the latest generation

RotorKool®

system making it lighter than our Thrust 50 yet even more powerful and kool! This motor is so efficient it allows us to power the model with 3s 2200 or 2600mAh packs or a single PA 6s 2600 mAh 22.2v battery. We chose to use 2 x 3S packs to allow these packs to be used in our smaller models. The 3s 2200 / 2600 is also a pack that is already owned by most of our customers so investment in a single 6S pack is not needed.

This plane / gear combination is incredibly versatile, with the use of 3 different props, you can completely transform the plane, VOX15x8 for all around freestyle performance, VOX15x10 for extreme high energy aerobatics, and VOX16x7 for all out low and slow 3D.

We developed the new NXT-200

H

igh

V

oltage (HV) servos and with them the new Quantum 80 EVO HV ESC with powerful (8amp peak) selectable voltage SBEC, which allows

you to choose between 6v, 7.4v and 8.0v! These powerful servos are significantly lighter yet offer more torque, and a smaller foot print taking its performance to the next level! The NXT-200HV will beat ANY other servo brand in value for money, hands down!
Easily accessible battery tray, a common issue with bipes – but not in this one!
Construction and hardware
FiberFusion

®

engineering at its best, exploiting knowledge from the past 14 years, utilizing the strengths of the fibers within each raw material, with the end result being lighter, stronger, more rigid aircraft that fly like nothing else! No black spraying of components just to trick the eye! No cheap lamination that you'll now see in so many RC models. There is a LOT of construction engineering and testing work done on each part of the plane.

No compromise on smooth flight performance, we sourced the hardware from multiple suppliers worldwide. The ball links and couplers from Germany, selected quality anodized socket head cap screws throughout, making the assembly a breeze.

* Top quality high temperature

Carbon fiber components are all made in house: from the carbon fiber CNC machined control horns and cabane struts to the landing gear and spinner cone. Carbon fiber wing tubes and pushrods as well as the many reinforcement and formers in the structure are all made of the real stuff! Even our T60R motor X mount is made of CNC machined thick solid carbon fiber plate for extreme rigidity and significant weight reduction.

The AMR 60 is built using finest grade material, all cut by state-of-the-art laser and CNC machines and pre-assembled by our skilled PA owned factory staff. Competition grade balsa is selected to ensure consistent quality and density through the entire airframe in each and every airframe. This means no wavy balsa sheeting and full control over the model weight.

In order to attain uniform performance for each and every model produced, we build the planes on very precise jigs. Each set of wings are matched individually to each fuselage (this is something most factories don't do even in giant scales production).

Metal hatch latch
Flying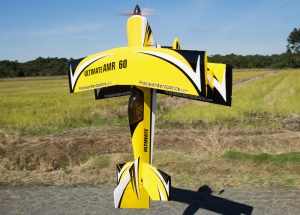 No bad flying tendency –

This is a one of a kind biplane on the market capable of flying as good as a monoplane and yet offers the unique cool biplane experience and unbeatable stunning in-flight appearance. It also makes a cool wing whistle during high speed passes and KE!
It tracks like it's on rails, high speed knife edge circles, superb precision, incredible high energy maneuvers (crankshafts, pop tops, blenders, this plane loves it all), graceful walking speed low and slow 3D, harriers with no wing rock in any position, super rolling harriers, hovers and torque rolls, this plane does it all! It's up to you to set the pace.
The AMR 60 has quick, crisp response on high rates and will lock into KE at any speed or angle of attack. It's an excellent tumbling machine able to execute tight spins, violent snaps and crazy waterfalls. Its fast axial roll is provided by four huge ailerons couple with rigid Fiberfusion® airframe construction.
Low rates tames the AMR 60's personality to smooth and precise. Perfect for precision IMAC or sports style flying. Long fast turns are very accurate and without adverse yaw or loss of attitude and beautiful straight lines. Four point rolls and eight point rolls are simply beautiful.
Worried about landing? Forget what you have heard about biplanes. The AMR 60 is THE easiest biplane to land. It will practically land itself at any speed without the risk of wing stall. It's a breeze to perform perfect landings without the need for a fast approach and a long runway.
With such a wide flight envelope, whether you are after sport flying, precision or extreme 3D/freestyle this plane is for you!
Genuine Carbon Fiber parts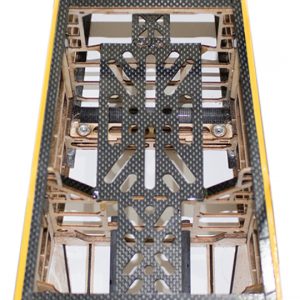 FiberFusion® construction throughout
CF wing tubes
CF CNC machined wing cabane
CF heavy duty pushrods and aileron ganging rods
CF firewall locker
CF top wing retaining rods
CF Wings' Leading edges
CF reinforced fiberglass cowling
CF CNC machined battery tray
CF CNC machined control horns
CF highly reinforced pre-assembled motorbox
CF Pre-installed elevator trailing edge reinforcement
CF reinforcement in the wings
CF quality pre-drilled landing gear
CF Pre-installed anti-rotation wing pins and retaining tabs
Wings feature state of the art construction with CF reinforced spars
CF CNC machined cabane and struts tabs (pre-installed accurately in the wings).
CF CNC machined motor X mount
CF fully reinforced fuselage in all key points
We at PA do not compromise on production cost. We use the finest, carefully selected competition grade balsa which we carefully separate by density in a tight tolerance. All PA models are assembled with superior adhesives in order to supply our customers with world class airplanes!
Specifications
Wing span – 52″ /1320mm
Length – 56″ /1421mm
Flying weight (AUW including 2600mAh batteries & spinner): approx 2200g /77.6oz /4.85 lbs !!!!
Wing area – 900 sq. in
Wing loading: 12.4oz/sq.ft!!
Note: Vortex Generators and Carbon fiber spinner are not included in the kit
Drive System
Required to complete:
PA Thrust 60 Revo 24 poles outrunner motor
PA Quantum EVO 80A High performance Programmable ESC with HV SBEC
PA Gen2 22.2v 2600 mAh LiPo pack or 2x PA Gen2 LiPo 2600mAh 11.1V (3s) 30-60C
Four NXT-200HV digital super-torque metal case and gears servo
VOX 16×7 prop wooden propeller
2.17″ Carbon Fiber Spinner
iPAs Combos
Combos include the following: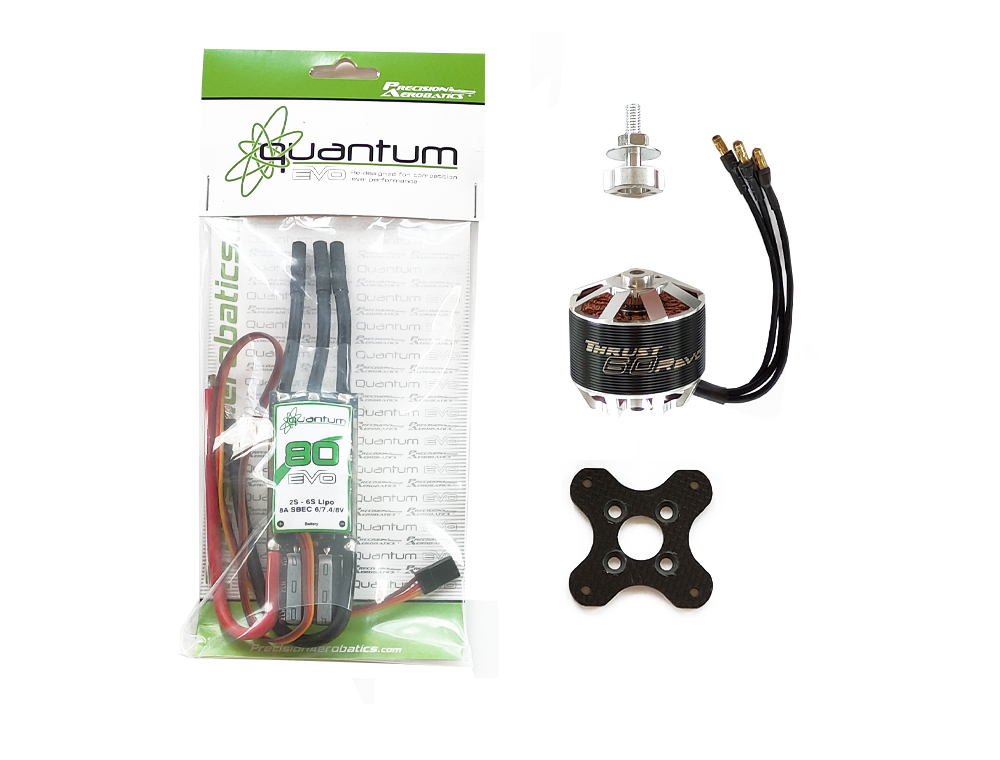 iPAs Drive:
The drive package includes
Ultimate AMR 60
PA Thrust 60 Revo outrunner motor with RotorKool Technology
PA Quantum EVO 80A High performance Programmable ESC with HV SBEC
CNC machined precision prop adapter
CNC machined Carbon Fiber X mount
iPAs Power:
The Power package includes
Ultimate AMR 60
PA Thrust 60 Revo outrunner motor with RotorKool Technology
PA Quantum EVO 80A High performance Programmable ESC with HV SBEC
CNC machined precision prop adapter
CNC machined Carbon Fiber X mount
4 of NXT-200HV digital super-torque metal case and gears servo
Set of 4 Carbon Fiber extended servo arms specifically designed to achieve the desired linkage geometry for full control surface movement. Note that the supplied servo arms are designed to match the NXT-200HV. If you already own these servos, please purchase the servo arms separately to ensure the correct linkages geometry is achieved.
Thin gauge twisted light extension lead (made in the same German factory as our giant scale airplanes HD leads). Due to its fine high quality strings it is extremely flexible preventing RF noises and features low internal resistance.
16×7 VOX Wooden propeller
What is iPAs? – Integrated Performance Airframe-Drive System

NO COMPROMISES, NO MODS, NO HASSLE
THIS IS THE REAL DEAL: PERFORMANCE OUT OF BOX
WHAT YOU SEE IN OUR VIDEOS IS WHAT YOU GET WITH iPAs
Unlike glow aircraft where it is mostly a matter of bolting on a specific size engine, the options for electric flight gear are simply overwhelming and matching electric gear to an airframe is a complex task for the average modeler and quite often can be very confusing.
Most manufacturers direct their customers to acquire a "compatible" motor and ESC or at best offer a "Combo" package that comprises of an off-the-shelf motor and ESC that would, in theory "fit" within the model's power requirements.
Surveys we conducted showed that each and every EP models flyer has experienced at least one if not more of the following problems:
Unpredictable handling problems caused by reduced wing loading due to oversized motors or battery packs or ancillary gear.
Overheating or unwanted ESC cut outs due to over propping or undersized motors
Handling problems due to drastic shift in CG and overall weight distribution.
Unacceptable flight duration due to inefficient "hot" motors or undersized packs
Airframe structural failure due to increased aerodynamic loads caused by oversized drives and packs.
Overheating and swelling of battery packs caused by serious drive mismatch.
Less than optimum motor performance due to ESC incompatibility.
Crashes as a result of servo gear failures caused by excessive loads on the control surfaces or exceeding the maximum airspeed limits.
A huge disparity in flight performance observed in the promotional videos against actual aircraft.
Premature Motors, ESC and Battery failures or performance degradation over time due to mismatch setup.
Gear does not properly fit the airframe and requires modification.
We do not believe modelers should have to live with compromises in flight performances.
Through hundreds of hours of flight testing our airframe designs, we have established that there is a direct correlation between airframe and drive system, which influences the desired aerodynamic performance. This means that airframes and drives should not be treated as independent items, but as one integrated system.
Due to the extreme lengths taken in the design of the airframe, and the unprecedented flight testing period to finally achieve the desired aerodynamic characteristics, we felt a complete solution for this model is necessary. As a result, we have developed our iPAs, PA Integrated Performance Airframe-Drive System.
Each iPAs component has been carefully selected, tested individually and on the airframe itself. Any impacts on the overall flight performance and aerodynamic characteristics have been identified and addressed to ensure that all iPAs components interact in full synergy, as an integrated flight system within the constraints of the design specifications. Each component has then been further refined. The result achieved is a perfectly matched setup, successfully meeting the desired performance criteria.
For the first time, flyers have the unique opportunity to experience the exact aerodynamic performance as envisaged by our chief designer and team of test pilots minus all the guess work and unnecessary expense.
Customer Reviews
---
I just came back from the maiden flight of the AMR60. Congratulations on engineering and producing such an awesome aircraft! I put her through maneuvers on the first pack which with other aircraft I normally only attempt after a couple of easy flights. The AMR60 however made me feel comfortable from the first second she was in the air, perfectly neutral and no bad habits whatsoever. Thank you for the absolutely spot on factory CG. I'm blown away.

Also thanks once more for always responding so quickly to my emails during the build phase.
Robin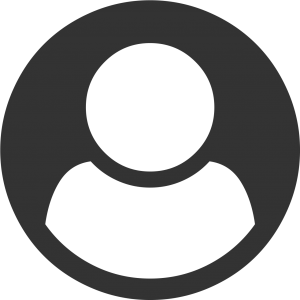 ---
I just wanted you guys to know, according to my battery logs I put my 500th flight on my AMR 60 this past Saturday. This is been the most amazing airplane I have ever owned. That says alot considering I started flying at the age of 13 and just had my 46th birthday a few days ago. My 3D skills are at a level I never dreamed that I could attain. To top it of it looks exactly as it did close to two years ago, there's not so much as a wrinkle in the covering. I've changed the prop once, and it was more or less just because I couldn't get the grass stains off of it. I just wanted to thank you guys for spending the time to develop such a great airplane. Now I just want a bigger one just like it.
James McDonald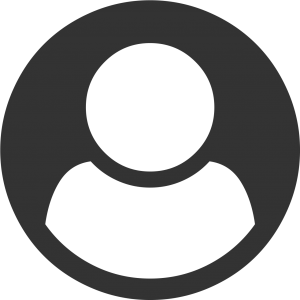 ---
Just got my AMR 60. I must say what incredible piece kit this really is. Cant wait to get it in the air. I also have the Addiction XL and still to this day have not found a aircraft that fly's as good. Keep up the good work and I look forward to seeing some new models in the future.
Many thanks
Matt Jones, UK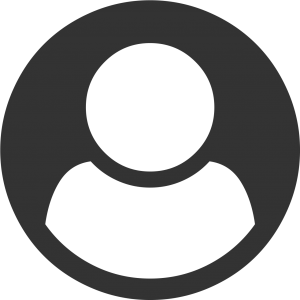 ---
I got my Ultimate AMR 60 Friday and all I can say is this is the quality I've been looking for! Everything looks perfect!
Thanks from a delighted customer!
Wally Erwin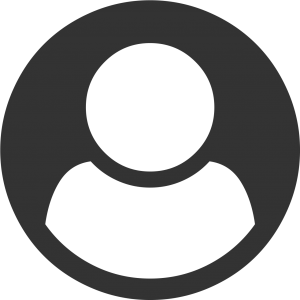 ---
I took the Ultimate AMR 60 out for the maiden flights. The best flying plane I own. Incredibly stable. Sport flying is easy. 3D on high rates are insane. I had an outer snap roll almost turn into a knife edge spin. Not intentional. Knife edges fly themselves. Slow harriers crawled and with the wind, went a little backwards. Landings and touch and go's were all 3 point. The PA crew really did a great job with this model
Chad DeQuevedo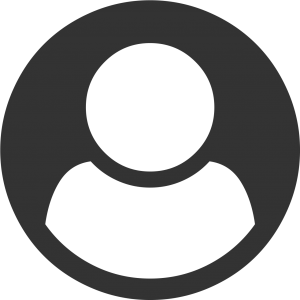 ---
Finally this Red Ultimate flew for the first time…Awesome…
Daniel Setiadi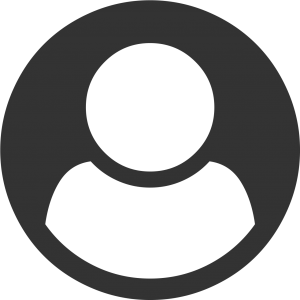 ---
Maiden flight of my Ultimate AMR60 today. Went as smooth as could be expected; no trims required. Rollers, hover, KE, pop tops were very precise. Great job on the design PA!
Bill Gilbert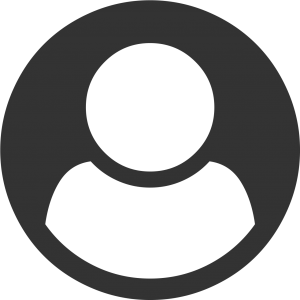 ---
I have the yellow version. Best flying plane I ever had the pleasure of flying.
Tom Patton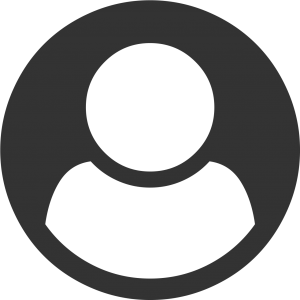 ---
This is the best electric biplane ever made! i have been flying rc for over 22 years, i have flown bipes in all sizes, from small up to 150cc! the AMR 60 is the closest you can get to a plane that has the good habits of a giant scale bipe, but still in a very nice size package! this thing flies BIG, it is amazing! it's the most predictable and stable biplane that you can imagine, lands at walking speed, flies FAST when you want it to fly fast…. slows down really good for slow 3D, yet it tumbles awesome, it probably outflies many of the bigger giant scale biplanes out there!
Daniel Dominguez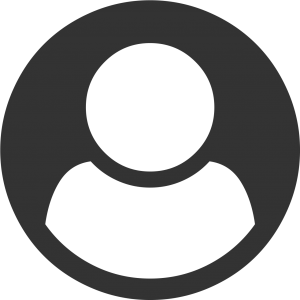 ---
I have the Yellow AMR 60. It is the best flying plane I have owned. Will be buying a couple kits to put back for later years..
Tom Patton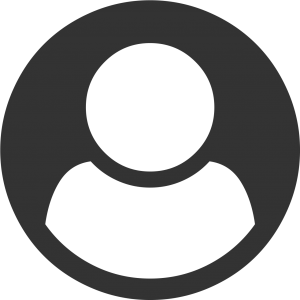 ---
The Ultimate AMR 60 is unbelievable, it's hands down the best flying plane I've ever had.

I absolutely love everything about my AMR 60 btw, you guys really have something with that one, if anything ever happens to it, it will be replaced immediately.
James McDonald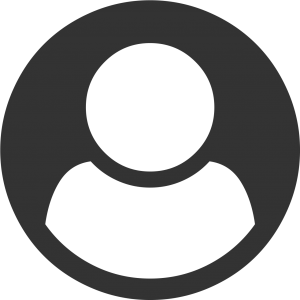 ---
I have about 100 flights on my AMR 60, and love it to death…
Xenophon Xenophontos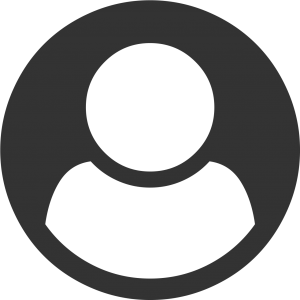 ---
I started assembly on my Ultimate AMR 60 this weekend finally. While there were MANY things that have impressed me with the model, the one thing that amazes me is the covering. There is not a wrinkle to be found anywhere, and it has been sitting for a few weeks. I have some other "high quality" arfs from other manufacturers (the large Carbon Cub from Horizon, the X-Cub from Horizon, just to name 2) and I have literally spent hours getting all the wrinkles out….only to have them re-appear over and over till I finally get them all out. I haven't found a SINGLE ONE on the Ultimate.
Brian Peters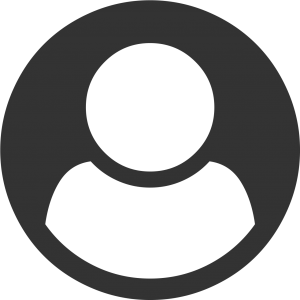 ---
I just got back from a successful maiden – 3 flights before dark!! OMG this plane is wonderful..

first flight I had it right down in front of me for a locked-in hover inches above the ground.. showing how confident one can be on it's maiden flight.. even slightly untrimmed but felt entirely comfortable with the plane immediately – even though I have MASSIVE elevator throw and do ned to be a bit careful at first…

OMG may be too much elev throw – KE spins were so tight my brain could hardly keep up with it!.. kind of freaky, I had to exit up a bit high as it was so wound up lol'.

harriers are mega-solid – like an addiction
Natesh Shankaraanand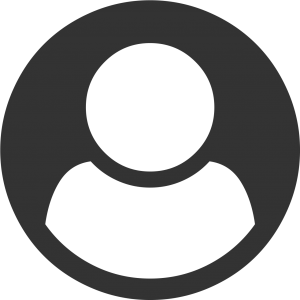 ---
This plane is an absolute jewel! It feels so incredibly locked in when flying sequence/pattern style flying. Snaps are super predictable: They break and stop super clean and instill absolute confidence in the pilot to be snap happy in any attitude knowing the plane will react predictably. To get a biplane to behave this way is no easy task! I do enjoy 3d but my first love is pattern so holding a line and flying very pattern oriented. The PA Ultimate does this extremely well, point rolls/slow rolls/rolling circles/Cuban eights you name it the Ultimate does it and does it VERY VERY well and of course looks badass while doing so.


Overall I think Precision Aerobatics did a great job with the Ultimate. All the parts fit together well, all major structural components were properly aligned from the factory making for an unusually easy biplane build (if you've ever built a bipe you know what a pain they can be). There was a minor covering issue with mine but it was probably just a one off flaw, it doesn't affect flying so its not the end of the world. The plane flies spectacular in all aspects. It can hold a solid line in the sky and only require a flip of the switch and it will become a 3d monster.

Awsome job PA! NOW make a 70cc or 120cc and take the market by storm for biplanes! You have a stellar design on your hands, it would be a shame to not expand it.
Click here to read Blake's full review
Blake Hilson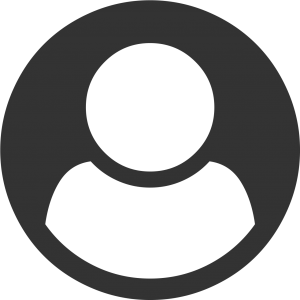 ---
I've been in the hobby for 55 years. I very rarely fall in
love with my aircraft. The AMR 60 is testing my feelings. It is everything it is said to be and likely much more. You did a hell-of-a job with this fine aircraft! I was compelled to purchase a second…besides I'll now have the two colors.
Jan Hyde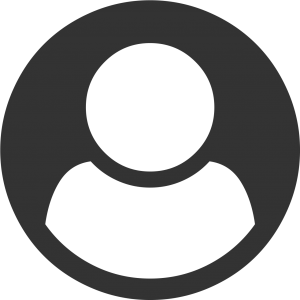 ---
Click here to view the video of Tyler flying it
felt good,flew more like a foamy than I kind of thought
It has a lot of pitch authority which is also nice, I could do a lot of my tumbles which i really like doing. Roll rate is pretty consistent it does good snap rolls, and flew precision pretty well for the little fun plane it is. I was pretty impressed, like i said very easy to fly down low,very stable in harriers and stuff, fun airplane, very fun airplane.
Tyler McCormack (Clover Creek invitational competitor)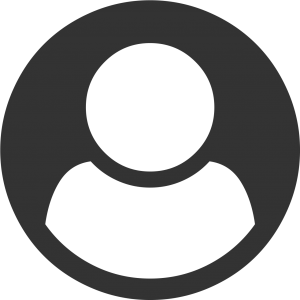 ---
Click here to see the video of Chris flying it
I got to fly it today and yesterday
Yesterday i flew it with a lot less wind than there was today
But yesterday when i flew it with very little wind, I was super impressed with how well that airplane tracked, how well it did precision, and then of course it went right into beautiful slow 3d, because you know its a nice biplane, it does nice rolling harriers, plenty of rudder and pitch authority, but it doesn't have too much authority to where it can't lock back in and fly and track nice lines.
Chris Hass (XFC Competitor)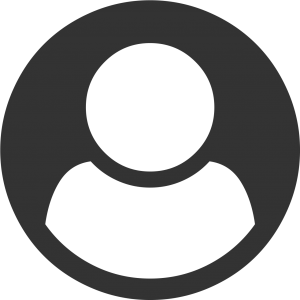 ---
I flew the Ultimate this morning. I absolutely love that plane. We now have three of them in our little group.
Bill Hodges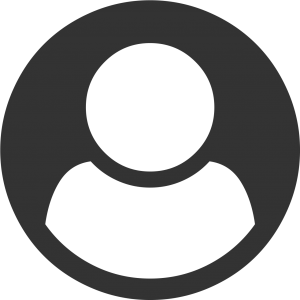 ---
Flew 4 packs on it this AM. This plane is absolutely awesome- high alpha and slow flight are a slow walking pace.
I placed the battery a few mm fwd after flying the recommended cg and it's just perfect.
TP 27006S gave me 4:30- this is throttle timer, so as I fly lots of 3D with power off and the flight lasted me closer to 7 minutes. Packs landed with little over 30%
I don't see a need to go bigger. I have a 3000 pack I'll try during the week, just to see….
James MacDonald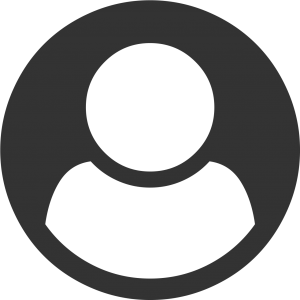 ---
Today I maidened the Ultimate AMR 60. Now, thats a whole new ballgame! Wow, what an amazing airplane! The best yet! And the mounting tech of the wings is just amazing. Goes real quick!
Martin Sputz, Germany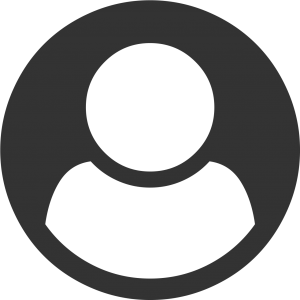 ---
I have been building flying models since 1956. I have built over 15 of your ARF's some of them several times. Just wanted to say to Shawn that the AMR 60 is one of the best planes you have put out as far as quality control. Not that there was anything wrong with the other ones but this is definitely a step up. I can't wait to get the finishing instructions on this model. The quality control is unbelievable on the covering and the fit of everything. The only thing I've had to do is a sanding stick very lightly on the elevator to fit into the fuselage. Alignment was perfect.
Thanks again and I hope you are able to enjoy some of the holiday.
Ben Rufli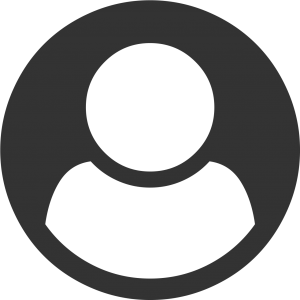 ---
Excellent quality as what I've come to expect from PA. Assembly was straight forward using their detailed instructions. Love how it handles in the air. Precise and goes/stays where you point it even with turbulence that would knock around other planes of similar weight/size (no stabilization). I normally don't disassemble planes of this size for transport but their wing removal system is so easy I do it to partly just help keep this beauty looking good.

My new favorite bipe!
John Jack, MONROE UT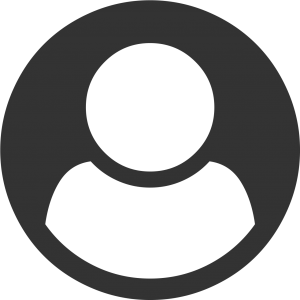 ---
Videos
Build videos
Here are some excellent build videos for the Ultimate AMR 60 from our good customer Martin Sputz from germany!
Recommended Props
Vox 15×8: Provides excellent power for sport flying, 3D and precision flying, and yet is still very capable of high energy maneuvers. It offers a slightly faster top speed compared to the 16×7, but offers an easier to manage throttle response. It also offers longer flight duration. NOTE: The smaller prop diameter generates slightly less propwash for slow 3D, however offers slightly faster spool up for easy exits out of tumbles, blenders and knife edge spins.
Vox 15×10: For those specifically looking for high speed / high energy flying and is also very good for windy days. This prop's strong point is high energy tumbles. It is still very good for slow 3D but you can expect the throttle response to be slightly sluggish in slow 3D, while the higher pitch gives an impressive top speed.
Vox 16×7: The choice for those looking for the best slow and low 3D performance and is included in our iPAs Power package. It generates maximum prop wash, which allows the best control possible during slow 3D and rolling harriers. It is a very good all-around prop, with a slightly slower top speed compared to the other props, but offers excellent 3d stability. It is still very capable of high energy. Please note: The larger diameter creates higher gyroscopic forces, which can make for some really interesting tumbles!
Since these 3 propellers really change the way the plane flies, we recommend getting all 3 to determine which one you like best. During our flight testing we kept switching between these 3 props as they are all excellent choices.
Warning: Plastic APC "E" propellers of equivalent sizes are NOT recommended for any of the PA planes as they generate a lot of vibrations being out of balance. They also flex and will draw much higher amps compared to the Vox props at the same sizes being less efficient. Using them instead of the recommended Vox propellers can lead to a motorbox failure!!