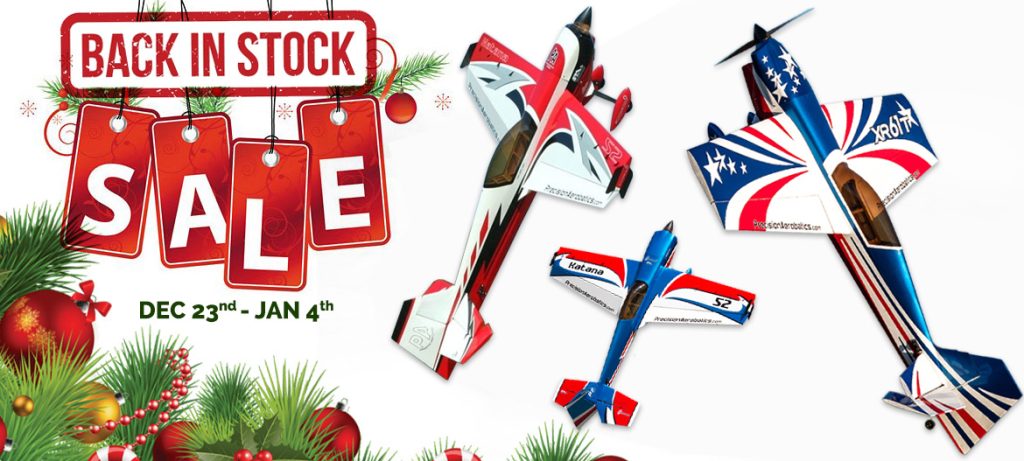 Merry Christmas and a Happy new year!
We are excited to share that our container shipment just landed and our warehouse is fully stocked!
In celebration of the New Year we offer Precision Aerobatics top performance airplanes at an amazing deal! Save on select PA airframes, iPAs packages and tons of accessories all at hot prices and IN stock!
Sale terms:
This is an online offer only, sorry – phone orders don't get the discount.
Sale starts on Thursday December 23rd and finish January 4th 10am US Est time. During the sale the special price of all participating products will be advertised on our website.
Processing time:
Final quality inspection is done here in the US prior to shipping each order. The process is slow as we conduct an extremely thorough quality control inspection of each kit. Be assured you'll get a high-quality product in the standard you've come to expect from PA. Just keep in mind – we are not simply sticking a label on your box but rather taking all components out of their packaging and checking them thoroughly then moving on to packing. We are handling a large volume of orders that accumulated over the last month and our container shipment just arrived – It will take time; please be patient. We will update the status of your order online, and once your order is shipped you will get tracking information.
Click HERE to read more about our quality control process during these challenging times.
No adjustment of previous purchases.
All orders will be shipped from our US warehouse.
Lipo batteries can only be shipped within the US and to CANADA.
Prices, availability, and specifications are subject to change without notice.
Shipping cost may be adjusted at the time of packing.
This offer is available to our customers worldwide. International orders will not be charged for their shipping cost order at the time of checkout. We will issue a payment request for you to complete when the order is packed and shipping cost calculated.
Thank you for your support! It is your support that allows us to continue producing the best electric planes in the world!