View cart
"Nexatec NXT 70HV Digital Metal Gear Servo – Pack of 4 servos" has been added to your cart.
PA Quantum 35A EVO ESC
New EVO version, with upgraded stronger user-selectable HV SBEC (6.0 / 7.4 / 8.0v)
SKU: AC-2188Evo - Need Help? Contact Us Leave Feedback
Categories: Quantum Speed Controllers, Addiction Spare Parts, Katana Mini Spare Parts
Tags: castle creations, hobbywing, ztw, electronics, phoenix, esc, ice, escape, flyfun, speed controller, talon, speed regulator, bec, hv, hacker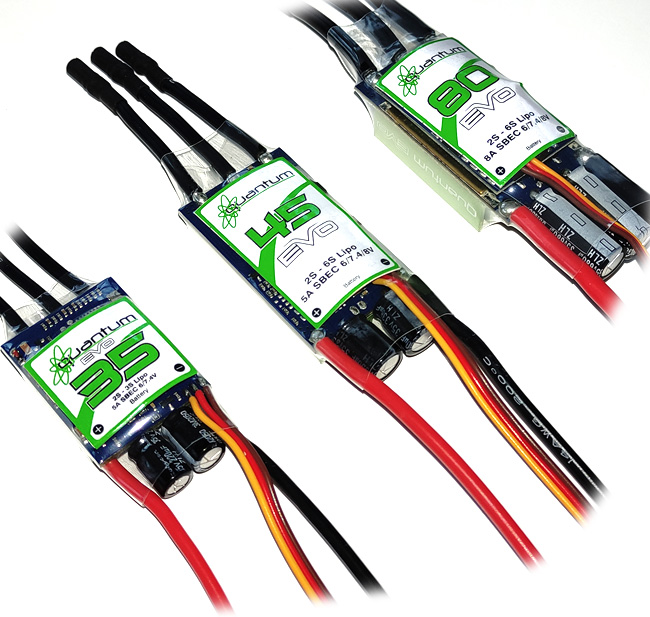 Beware of copies!
PA Quantum EVO line features outstanding quality backed by equally outstanding service since 2003.
The Quantum EVO range has developed over the years and has proven to be reliable and efficient. Unfortunately, however, this success has also attracted companies who have sought to copy our ESCs. Customers are being confused by similar packaging and instruction manual. Some vendors are suggesting these copies are in fact PA Quantum, or produced at our manufacturing facility. Beware of cheap imitations!! BAD ESC = CRASHED PLANE.
Quantum EVO adjustable HV SBEC
This is the latest edition of our Quantum Evo Electronic Speed Control (ESC) featuring a high output SBEC capable of delivering 6v, 7.4v or 8.0v. It ships preconfigured for plug-and-play use with Thrust brushless motors. Years of R&D and experience has culminated in this extremely reliable, efficient and robust ESC.
Features:
Selectable high voltage switching BEC (Battery Eliminator Circuit)
Powerful SBEC – capable of high amp peak
Smooth and accurate throttle linearity
New design larger efficient heat sink
Designed, tuned and optimized for Thrust™ motors
Fully programmable Microprocessor Controlled for all applications
User friendly interface for quick and easy hassle free programming
Exceptionally low resistance for efficient cool operation
High rate switching with high RPM brushless motor support
Rugged surface mount industry grade components for added reliability and crash durability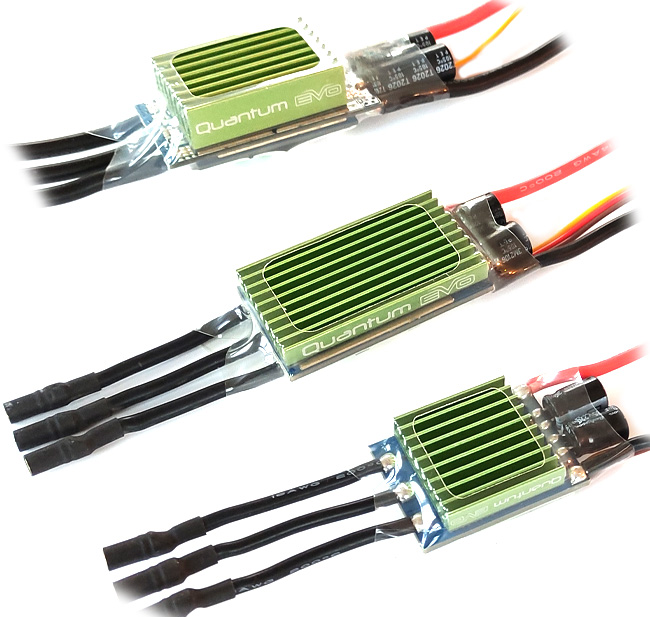 Quantum ESC allows you to program all functions to fit your specific needs, which makes it very efficient and user friendly:
Brake setting (we recommend using brake only for folding props applications)
Battery type (LiPo or NiCd/NiMh)
Low voltage cutoff setting
Factory default setup restore
Switching frequency
Low Voltage Cutoff type – LVC (power reduction or immediate shutoff)
Timing settings (to enhance ESC efficiency and smoothness)
Soft acceleration start ups (for delicate gearbox and helicopter applications)
Motor rotation (clockwise\counterclockwise)
Governor mode (for helicopter applications)
Built-in safety features:
Thermal overload protection
Automatic throttle shut-off if signal is lost
Power arming protection (to prevent accidental motor spool-up when switched ON)
ESC is equipped with audible alert tones to indicate abnormal conditions
Specification:
Quantum 35 EVO
Continuous current
35A
Burst Current (<10s)
40A
Switching BEC Output

6V/7.4V
5A (continuous)

LiPo
2-4 Cells
Related Products
Ultimate AMR 60 Spare Parts, PA Lipo Batteries, Addiction X Spare Parts, Addiction Spare Parts, Extra MX Spare Parts, Wires and Connectors, Extra 260 Spare Parts, Katana 52 Spare Parts, Electric Shock Spare Parts, Ultimate AMR Spare Parts, Katana MX Spare Parts, XR-61 / XR-61T Spare Parts, XR-52 Spare Parts, Addiction XL Spare Parts, Katana Mini Spare Parts

$

6.99