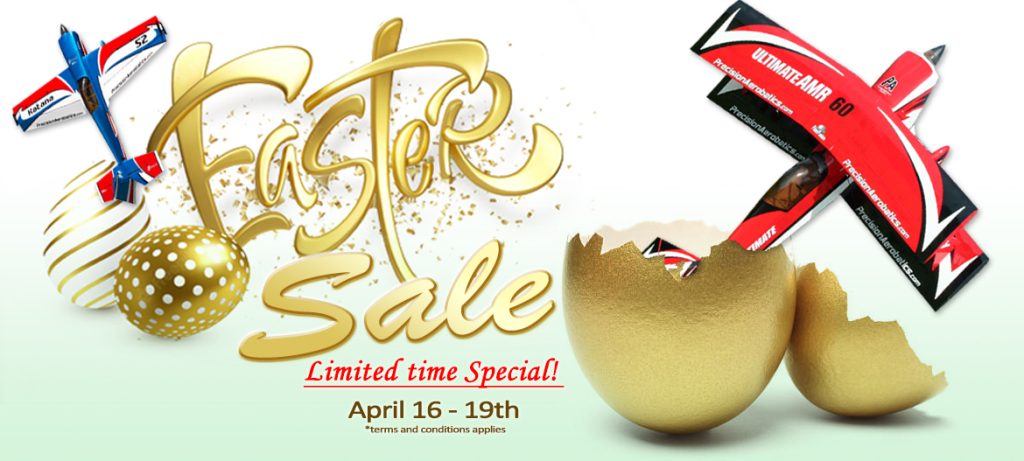 Limited Time Special: get a Precision Aerobatics airplane and accessories at an amazing deal!
Click here to visit the page with all the deals!!
Sale terms:
This Online-only Sale starts on Saturday, April 16 and ends Tuesday April 19th. During the sale the special price of all participating products will be advertised on our website. No coupon code needed.
No adjustment of previous purchases.
All orders will be shipped from our US warehouse.
Lipo batteries can only be shipped within the US and to CANADA.
Shipping of Lipo batteries to Canada is by UPS only. USPS will not ship batteries.
Prices, availability, and specifications are subject to change without notice.
Shipping cost may be adjusted at the time of packing.
This offer is available to our customers worldwide. International orders will not be charged for their shipping cost order at the time of checkout. We will issue a payment request for you to complete when the order is packed and shipping cost calculated.
Processing time:
Final quality inspection is done here in the US prior to shipping each order. The process is slow as we conduct an extremely thorough quality control inspection of each kit. Be assured you'll get a high-quality product in the standard you've come to expect from PA. Just keep in mind – we are not simply sticking a label on your box but rather taking all components out of their packaging and checking them thoroughly and attend to anything as needed – then moving on to packing. It takes time; Please be patient. We will update the status of your order online, and once your order is shipped you will get tracking information.
Click HERE to read more about our quality control process during these challenging times.
Thank you for your support! It is your support that allows us to continue producing the best electric planes in the world!