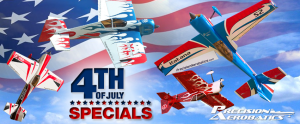 4th of July Special
Here are just a few of the products and their special 4th of July offer:
Addiction ARF –instead of $169.95 just $144.95
Addiction X ARF – instead of $259.95 just $219.95
Addiction XL ARF – instead of $325 just $274.95
XR 61 ARF – instead of $299.95 just $254.95
Katana 52 ARF – instead of $239.95 just $199
And even greater discounts on the iPAs packages.
Discount will be available on our website starting July 4th to July 6th. No coupon code needed!
Discount is only available as marked at a special price on our website during the dates of the offer. Offer may be different on each color of each plane. Please select the color of the product and the package to see the special offer of that particular item.
No adjustment of previous purchases.
All orders will be shipped from our US warehouse.
Prices, availability, and specifications are subject to change without notice.
Shipping cost may be adjusted at the time of packing.
During a sale we experience high volume of orders. We process them in the order they were received and are doing our best to get the orders out as quickly as we can. We will update the status of your order online, and once your order is shipped you will get tracking information from either FedEx and USPS. If you have any questions regarding your order please email [email protected] so we can answer your questions directly and promptly.
If a color runs out of stock during the sale it may not be correctly showing on the site. If this is the case we will contact you and offer to change the color of your plane or refund you.
This offer is available to our customers worldwide. Customers in Europe – with one outlet serving all of Europe we suggest you order locally – get free shipping on any PA kit within the European community. Please check www.PrecisionAerobatics.Eu
International orders will not be charged for their shipping cost order at the time of checkout. We will issue a PayPal request for you to complete using either your credit card or your PayPal account when the order is packed and shipping cost calculated.
Australian customers – please note ALL our orders are shipped from the US warehouse and are payable per US prices. We are unable to ship batteries to Australia.
Canadian orders will be shipped from our US warehouse using USPS. If you are in Canada but have a US shipping address it is always easier and cheaper to ship within the US.