PA Lipo V2 pack 11.1V 2200mAh 20-40c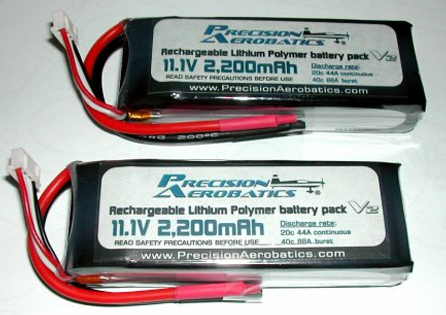 The V2 Chemistry - The Difference
The new and improved V2 packs leverage on the proven V1 chemistry to provide superior performance consistency throughout the flight, reliability and trouble free long service life (see note 1 below) in a compact and lightweight format.
The improved V2 chemistry features a much lower internal resistance provides at least 15% boost in performance over the V1 pack, with an added bonus of a safe charging rate of 2C *.  In other words a much improved punch for quicker acceleration and a quicker cycle time at the flying field, doubling your fun (see V2 datasheet).
Our airframes designed with the PA Lipos in mind and as such when setting up a PA airplane using our packs means plug and play without the hassle of figuring out the CG positions or modifying the airframe to fit.
Our comprehensive iPAs (Integrated Performance Airframe-Drive System) tests consist of particular airframe, motor, ESC, propeller and0 battery combination. Change any of those components and you change the model's specified aerodynamic performance. Don't compromise! High performance airplane, require high performance set up.
If you used other brand packs, you have probably experienced a power droop at the last 25% of the flight; this is a typical characteristic found on many ordinary Lipo packs. This is THE Difference you will find with the PA Packs: similar to our thoroughly tested V1 packs, the V2 chemistry provides a very constant voltage throughout the flight (See graph below).
In the series of tests conducted, we recorded consistent flight performance up to 90% of the flight duration. This means high energy maneuvers could be performed with consistency up to almost the end of the session without being constrained to execute low power maneuvers (less throttle) at the last 25% of the flying session, in order to avoid damage to the battery pack.
The V2 packs take the limitation of EP flight out of the equation. No more compromises on the mix of maneuvers from start to end. The V2 packs allow you to fly in a similar fashion to the flexibility offered by IC-models within the flight session.  This opens up a whole new avenue to perform flashy maneuvers such as a high speed snap into a hover followed by a torque roll and finishing off with a hand catch to add a high impact finale to your repertoire.