PA How to 3D DVD Series (2 Discs)
Model Aviation Magazine Review: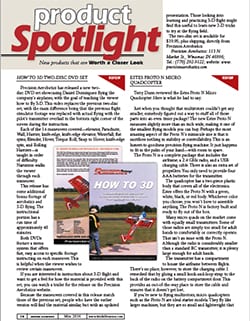 Testimonial from one of our customers:
I recently requested an instructional video for 3D flying from Precision Aerobatics. The video I received is FANTASTIC! It clearly shows both the maneuvers and how to get results by showing exactly where to position your fingers on the transmitter. I've watched many 3D instructional videos, but none were as clear and exact as this one. Showing the expanded view of the hands on the transmitter @ the bottom of the screen is indeed a plus! If you want to learn to hover, Harrier, or just be a great 3D pilot, this is the video for you ! Thanks !
3D PILOTS -ROY AND PATRICIA GRAHAM
Improve your skills and challenge your R/C flying!
This DVD will take you step by step through the process of learning to fly 3D maneuvers. You will learn from PA team pilots, through video and commentary, starting with the easier to perform 3d maneuvers and moving on to the more complex show stoppers.
Each maneuver has its own separate video clip demonstrated with real flying footage. Flight demonstration by PA team pilot Daniel Dominguez with the radio in Mode 2. The videos have a real time transmitter overlay on the screen so that you can seewhat stick movements are required as the maneuver is performed and at the same time the comentary talks you through the maneuvers, allowing you to master them in the shortest time possible.
Also included are many "tips" that make learning to fly 3d so much easier.
Each video has its own chapter on the DVD menu that makes locating and reviewing them quick and easy. So now anyone can learn to fly 3D.
Maneuvers included:
Elevator
Parachute
Wall
Harrier
Knife Edge
Knife Edge Elevator
Waterfall
Flat Spins
Blender
Hover
Torque Roll
Knife Edge Spin
Rolling Harriers
And also includes lots of bonus materials!