Addiction XL ARF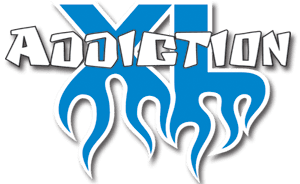 Get the new Thrust 60 Revo for your Addiction XL: rear mounted, swings a 16x7 prop and offers even more power than the original Thrust 50, as well as extended flight duration!
All iPAs packages already include the new Thrust 60 Revo!
Carbon Fiber X mount supplied at no extra cost with the Thrust 60 Revo when bought with the Addiction XL!
Choose your options:
Description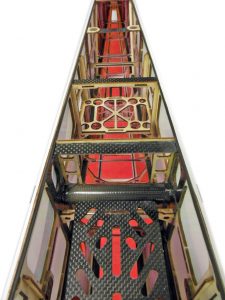 As requested by so many flyers, addicted to their smaller size Addiction airframes, we are happy to announce our new Addiction XL. With the first Addiction selling over 10,000 (!) planes since its release back in 2007, and still in high demand, the larger Addiction XL means exciting news for any PA flyer.
Yes, it's a larger Addiction, but in many senses this is a new design – like any other PA plane, this too has been taken to a whole new level. Being the third release in 'NEXT Generation PA' it allows you to do a lot more than you would expect.
Despite being a 3D plane in every aspect, it is extremely stable and precise – capable of impressive precision aerobatics maneuvres with a feel much like a 150cc airplane.
Being built using finest grade material, all cut by state-of-the-art laser and CNC machines and utilizing the very latest PA FiberFusion® building techniques, the ADXL is incredibly lightweight and rigid.
In fact it is by far the lightest fully-constructed plane in its size.
Don't be misled by the wing span – this model is HUGE. In fact it is PA's first entry into a new class of XL size planes with a wing area of 1,055 sq. inches (similar wing area of most 70" class aerobatic models on the market today).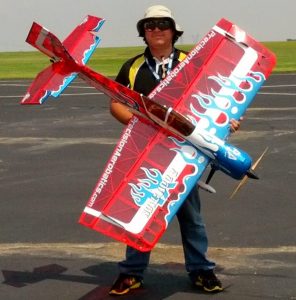 The size of this plane makes a huge difference in the flying capabilities and flight envelope. The Addiction XL's lightweight and unique aerodynamic design means its iPAs set up (for ultimate hardcore 3D performance) is an economic Thrust 50/Quantum 70 combo with two 2200mAh / 2600 mah 3S packs in series, or one small capacity 6S pack. This means you get to fly this massive plane at a very minimal investment compared to other models of its size – then again – there really is nothing like it.
Up until the Addiction XL – when you thought of a 3D dedicated airframe, automatically you would not expect it to track well or perform accurately.
The Addiction XL will surprise you as it tracks better than any other Addiction or other 3D plane of its size. The generous tail section means awesome tail authority and the ADXL advanced aerodynamic design allows you to do incredible elevators, knife edge loops, high alpha knife edge, rock steady harriers, the easiest and most impressive rolling harriers, and yet when you go to low rates, its capable of the most beautiful point rolls, and rolling circles. The ADXL is even capable of tricks like one roll circles and loops and beautiful slow rolls that you can take to the length of your flying field! Engineered for precision flying, the ADXL is a very neutral airframe – you will find zero coupling and no mixing required for precision flying. No CG adjustment required for switching between precision and 3D flying either!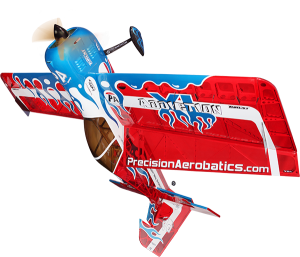 The ADXL does beautiful fast knife edge circles, and even knife edge elevators and knife edge waterfalls! Things other planes are not capable of. The flight envelope will keep expanding as you get more and more familiar with the plane, and being a slow flying plane will make new manoeuvres easy to experiment and develop – which guarantees to improve your 3D and precision flying skills.
The ADXL power set up is very responsive allowing you to get out of get out of the most difficult situations with ease. This, combined with its predictability and very slow flying capability, makes it a perfect choice for entering into 3D or you can just enjoy it as an accurate sport plane and build your confidence. Yet in the hands of an advanced 3D pilot – the ground is truly the limit!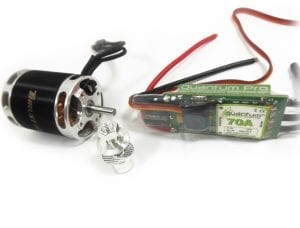 The word best describe this plane is FUN and you'll impress anyone at the flying field because the ADXL makes it look so easy!
We said this before: "3D is challenging and is fun, and with the right aircraft it is within the grasp of anyone regardless of experience or flying skill!" The Addiction XL is all about that!
Specifications
Wing span – 59″ /1500mm
Length – 62.40″ /1585mm
Flying weight (AUW including batteries & spinner): approx 2080g / 73.4oz /4.58 lbs !!!!
Wing area – 1055 sq. in !!!
Wing loading: 10.02oz/sq.ft
Note: Vortex Generators and Carbon fiber spinner are not included in the kit
Drive System
Required to complete:
PA Thrust 50 (V1 motorbox) or Thrust 60 Revo 24 poles outrunner motor (V2 motorbox)
PA Quantum 70A Pro ESC
Two PA V4 LiPo pack 11.1V 2200mAh (or a 6S 2,200mAh)
Four NXT-90HV mini digital servos
VOX 15×8 (Thrust 50) / 16×7 (Thrust 60 Revo) prop wooden propeller
2.17″ Carbon Fiber Spinner
iPAs Combos
Combos include the following:
iPAs Drive:
The drive package includes
• Addiction XL
• PA Thrust 60 Revo 24 poles outrunner motor with RotorKool Technology
• PA Quantum 70AHigh performance Programmable ESC
• CNC machined precision prop adapter
• Carbon Fiber X mount
iPAs Power:
The Power package includes
• Addiction XL
• PA Thrust 60 Revo 24 poles outrunner motor with RotorKool Technology
• PA Quantum 70A High performance Programmable ESC
• CNC machined precision prop adapter
• Carbon Fiber X mount
• 4 of NXT-90HV Metal gears servos.
• Set of 4 Carbon Fiber extended servo arms specifically designed to achieve the desired linkage geometry for full control surface movement. Note that the supplied servo arms are designed to match the NXT-90HV. If you already own these servos, please purchase the servo arms separately to ensure the correct linkages geometry is achieved.
• Thin gauge twisted light extension lead (made in the same German factory as our giant scale airplanes HD leads). Due to its fine high quality strings it is extremely flexible preventing RF noises and features low internal resistance.
• 16×7 VOX Wooden propeller (you might want to add to your order 16×6)
What is iPAs? – Integrated Performance Airframe-Drive System

NO COMPROMISES, NO MODS, NO HASSLE
THIS IS THE REAL DEAL: PERFORMANCE OUT OF BOX
WHAT YOU SEE IN OUR VIDEOS IS WHAT YOU GET WITH iPAs
Unlike glow aircraft where it is mostly a matter of bolting on a specific size engine, the options for electric flight gear are simply overwhelming and matching electric gear to an airframe is a complex task for the average modeler and quite often can be very confusing.
Most manufacturers direct their customers to acquire a "compatible" motor and ESC or at best offer a "Combo" package that comprises of an off-the-shelf motor and ESC that would, in theory "fit" within the model's power requirements.
Surveys we conducted showed that each and every EP models flyer has experienced at least one if not more of the following problems:
• Unpredictable handling problems caused by reduced wing loading due to oversized motors or battery packs or ancillary gear.
• Overheating or unwanted ESC cut outs due to over propping or undersized motors
• Handling problems due to drastic shift in CG and overall weight distribution.
• Unacceptable flight duration due to inefficient "hot" motors or undersized packs
• Airframe structural failure due to increased aerodynamic loads caused by oversized drives and packs.
• Overheating and swelling of battery packs caused by serious drive mismatch.
• Less than optimum motor performance due to ESC incompatibility.
• Crashes as a result of servo gear failures caused by excessive loads on the control surfaces or exceeding the maximum airspeed limits.
• A huge disparity in flight performance observed in the promotional videos against actual aircraft.
• Premature Motors, ESC and Battery failures or performance degradation over time due to mismatch setup.
• Gear does not properly fit the airframe and requires modification.
We do not believe modelers should have to live with compromises in flight performances.
Through hundreds of hours of flight testing our airframe designs, we have established that there is a direct correlation between airframe and drive system, which influences the desired aerodynamic performance. This means that airframes and drives should not be treated as independent items, but as one integrated system.
Due to the extreme lengths taken in the design of the airframe, and the unprecedented flight testing period to finally achieve the desired aerodynamic characteristics, we felt a complete solution for this model is necessary. As a result, we have developed our iPAs, PA Integrated Performance Airframe-Drive System.
Each iPAs component has been carefully selected, tested individually and on the airframe itself. Any impacts on the overall flight performance and aerodynamic characteristics have been identified and addressed to ensure that all iPAs components interact in full synergy, as an integrated flight system within the constraints of the design specifications. Each component has then been further refined. The result achieved is a perfectly matched setup, successfully meeting the desired performance criteria.
For the first time, flyers have the unique opportunity to experience the exact aerodynamic performance as envisaged by our chief designer and team of test pilots minus all the guess work and unnecessary expense.
Testimonials & Reviews
Phil Anjo
Well today was my maiden of my addy xl. 3 clicks of down and she was level. Wind was calm. Absolutely a marvel to fly. So smooooooothe. It will take getting used to something so agile. Until now I've been flying a 60 cc aeroworks extra 260 at 18 pounds. This is so different. A job well done on the design. Thank you all for all your help. Look forward to many years of flight time with my xl!
Dan Lowenstein
I got everything completed and flew the plane for the first time today. Worked perfectly, and, my goodness, does it do amazing 3D!!!
rogersrick123 @ RCGroups
Had my maiden today, I love this plane fly's like a dream. Great job PA.
faldomak @ RCGroups
My XL arrived Today. A beauty. Great packaging and everything in perfect shape.
Amazing engineering job, all these interlocking parts, balsa inserts with correct grain direction, carbon where needed – it crossed my mind that I should buy another one, strip down covering and keep it as a sculpture – it really is that good.
four stroke pwr @ RCGroups
All I can say is WOW! Madiened the XL yesterday. Installed the 2200 batteries as indicated. Launched, and did not add ANY trim to any surface! Perfectly stable! The field was in awe on just how slow this airplane will fly around the field! Flat spins just like we saw the PA pilot perform here. In fact, I like it so much, I went out again this morning and did again! Charging the batteries again to repeat the process tomorrow. The wind was zero this AM (fog on the field in fact), so I was able to fly it so slow with no hands on controls. Flew my XL again today, zero wind at 8:00 AM, and warm, now 80 degrees. I'm thoroughly impressed, as this is a smooth machine, elegant really. And, into a breeze yesterday late morning, will fly at walking speed! Not kidding!
I have already placed my order for the XXL, which will be 71″, LOL… (Hope they are listening!)
rogersrick123 @ RCGroups
I've had a few flights on my XL, and she has plenty of power to pull out. Use the 16×6 prop, way better for slow 3D. I really like this plane, you don't realize how big it is until you go back to the X, it's like day and night. Once I found the CG sweet spot, she locks into a hover perfectly. I took some expo off from the manuals suggestions, I was using way to much stick to hold her steady. I'm at 50% elevator, 50%ailerons, and 30% on the rudder using a JR 11X.
Rudder was the biggest improvement, I find it harder to keep the tail steady in a hover if I need to move the stick to far over while playing with the throttle. I have the 3DHS 74 Edge 540 and it's a great 3D flyer, but the XL is way easier to fly 3D, no bad habits and beautiful rudder control with the wing hardly dropping.
You are so right on Mr Kamikaze, the XL is a nice improvement over the X, just like the X was over the original Addiction. This is the best 3D plane I've ever flown.
Brett Mezen
Holy Cow!!! I just maidened my Addy XL and it's craZZZZy!
The Addy XL is the same step up from the Addy X as the Addy X is from the original Addy. We know the original Addy is a great 3der so imagine how good this Addy XL is!!!
I videoed the maiden and you will not believe it when you see it. On low rates it's big and precise and smooth, on high rates it… Well it's stupid slow and stable. And sooo easy to do it with as well.
Shaun, my hat's off to you man. You are a designer with vision and an amazing comittment to giving us all the opportunity to fly planes like this.
Get one of these guys, take it to your local flying patch and watch the jaws drop!!!
jwrdn @ RCGroups
This plane was enough to pull me back into the hobby. I hadn't flown but a couple times over the last 10 years and was browsing RCgroups and came across the ADXL and was hooked! I had a few Su-do-kois(SP) including a couple of the giant ones years back and loved them. Some may be too young to remember them but they were a profile with lots of wing. I ordered an ADXL last week and it should be shipped tomorrow! Can't wait!
MICKEL @ RCGroups
Test flight complete! Extremely happy. Buy one of these only if you like Floaty 3d planes that fly well!!!
Richard Roberts
Hello P.A. I would like to thank all of you Cheryl, Jim and Jerry and anyone else who works at P.A. For the customer service, you are so nice and accommodating. Very professional but like talking to a friend. Wanted to thank the guys for there shipping and packing well the packing is the best I have dealt with on-line, they do the little thing to keep your products safe like taping props to a piece of cardboard. Owe yeah they make Great planes to. Thanks again P.A. Richard R.
Paul Gunnar Strand, Norway
PA product is outstanding good and solid planes! (I have 4 Pa planes in my collection, and i'm very satisfied with their performance!)
four stroke pwr @ RCGroups
I ran six sets of packs through my Addy XL this morning.. what an incredible experience. Love this plane!
Andreas Hegger
Hi All, I just received my ADXL – what a piece of Art… – I am putting it together for a photo shoot
Robin W. Karlsen
Thank you for providing these great Precision Aerobatics airplanes to the world! Extremeflight, Pilot-Rc, Eflite, Aeroworks, Great Planes, Hangar 9 could go to bed and sleep, compared with the PA machines! I have never seen or flown a electric balsa/carbon plane with this kind of light weight and extreme durability as the PA planes! I'm on my third PA bird now (there will be a fourth), and the best so far. The Extra MX is amazing! It looks great and the performance is fantastic! The only thing I wish you could do to the Extra mx is to add carbonfiber in the front of the glasfiber cowling as you already have in the back, it cracks up really easily.
Again! The best electric flyng machine I've ever had.
To everyone PA team – Thanks!
Best regards,
Brian Rust
The lightweight strength in every Precision Aerobatics plane gives you the feeling that you can do anything. My Addiction XL floats like nothing else I have experienced. From the very first flight, I have been impressed with how stable and responsive it flies. I have other planes in my inventory – but I can always count on an enjoyable flight when I grab my Precision Aerobatics – Addiction XL!
Lee Underwood
Absolutely without a doubt is the design of the PA airplanes. I have a Addiction and Addiction XL on the bench now being built, they are a joy to build
Marco Beicht
I love my Addition XL, because it is the best flying plane in my fleet.
Rick Samuels
PA planes make me look like a better pilot. I've had many different PA planes over the years and I love them all. My favorite right now is the Addiction XL.
Sean Butler
I have the regular and XL addictions and I love them both. Crisp handling, light wingloading, sturdy construction. Thanks PA, the addictions ROCK!
Paul J Bajnoczy
I loved how my Adiction XL went togather. flys great. I just need to be a better pilot. I also got the Bandit before it went out of stock in the US. Lucky me.
Lee Underwood
Building a Addiction and Addiction XL at the same time, what crazy beautiful airplanes, thanks PA
Christy Buhler
My husband has an addiction X and an XL and a Bandit. He absolutely loves them !! The best planes ever! Makes me a weekend flying widow … lol
Steve Shaw
Steve Shaw started my addiction with an extra 260. next i saw the addiction in a video and thought wow what an ugly plane. when i watched the video i bought one and then another. then the addy x came along . have had 6 of them. the addy xl have had 2 so far. also along the way i have had an extra mx a katana mx an ultimate and an electric shock.does anyone know of a group that can help with this sort of addiction? I just ordered a new Addy X today
Jason Ille
I will say the addiction was my very first balsa and pretty much my first plane. The stability of PA planes are amazing it has taught me how to fly 3d the guys at the field do not believe me when I tell them how long I have flown. I really didn't want to come out and tell no one but the truth be known it is because of the planes I flew. Addiction, 2x X's and then on to the XL and now the XR is ready to maiden. One of my daughter's now is flying my first addiction I purchased. So with that said I'm very thankful for the planes that I have from PA not only bringing my daughter's and I closer together but involving them in a lifelong skill and not on the street looking for trouble like I see with many kids today. So with a new addiction my youngest daughter would be thankful but even without I may just have to cut one of my X
Elmo Cooper
I own an Addiction XL and an Ultimate AMR. Both planes satysfied me from the start. The pre-assembled parts are perfectly manufactured and the final built up you have to do at home is arranged logical and using the manual very easy practicable. I never got in trouble getting any spare parts (thanks to my local PA provider braekman.de) whereupon it instead of the detailed construktion of PA planes often was no problem to fix minor injury even with my low skills in building. First it was a hobby, with PA it became passion, that means this brand made me become a fan in a way I actually only knew from rock stars!
Phil Kuefller
I had my 1st flights with my addiction xl and all I can say is wow ,wow,wow I love this plane and can see why you named it addiction. Thanks for a great product.
Ken Miyake
I am now flying the Addiction XL exclusively and love the plane. When I am doing any maneuvers the plane always holds its position, especially when in a hard climb and near a stall the plane will not lose position and stay put. All my other planes wanted to pull to the left. I love the saying on the Addiction XL(The Ground Is The Limit!) . It is so true. I hope you got a patent on this. Whenever I fly I always remember this saying. I guess it keeps me grounded. I love this plane.
Scott and Scott Jr. Waite
The planes you guys design, build, and sell are above anything I have ever flown……..of our fleet of almost 40 planes…the PAs are the only ones getting an flying time…..as a matter of fact based on my timer on my radio, my Katana has flow from Ohio to California and all the way back to Denver if I use a 30 mph rate of travel……..
You are welcome to post this in your testimonials section……
You Sincerely Grateful Customers: Scott and Scott Jr. Waite………
Bob Rederick
I flew my new Addiction XL today, first time. Instructor was telling everyone how great my first landing was with it. I rolled it upside down first flight and it needed no down elevator. An awesome plane.
Rob Merkes
"This plane is the best airplane I've ever flown. Just so you know. It's all I fly anymore.
Thank you, "
Rob Merkes
Chris
It is a one of a kind design for sure. And it's huge.
Incredible (not that you need my complements).
-Chris
RCLARRY
THANKS FOR THE BEST FLYING PLANE IN THE WORLD!!!! THANKS – RCLARRY
Joshua Savoie
I received an Addiction XL from my girlfriend for Christmas and first thing I have to say is the quality of this model is amazing
Thanks so much.
Joshua Savoie
jevery @ RCGroups
Shipping was timely and customer service was very good with my recent purchases with PA.
Richard Roberts
Wanted to thank everybody at Precision Aerobatics for getting my order out so fast and for the customer service that is great. I added to my order twice and the good people at PA dealt with me with in a patient and pleasant manner. The packing is top notch one of the best in the industry. Thanks again for the great experience.
Dennis A. Hobson
Dear Lady: this is just a simple letter of praise for Cheryl Widner at P.A. U.S.A. – I recently made an order of two electric RC planes and made a mistake in doing so!
Cheryl called me to verify this is what I wanted (it was not) she helped me get this order right and answered all of my questions and needs in such a courteous and professional manner, I felt this letter was in order! Not only do you sell the best model aircraft on the planet, you also have top notch employees and support crew like Cheryl !
Keep up the Good work,
Paul Herman
Many companies have support for e-mail questions. However, very few answer in a timely, accurate fashion as you did.
This tells me that PA understands the value of good customer service. I will definitely purchase my next aerobatics aircraft from PA.
Cheers,
Willis Garman
Thanks for getting my Addiction XL out so quickly! Ordered on Wednesday and delivered Friday. I appreciate the great service
Willis
Tim Parrish
Thank you for your call back, and the time you spent with me today. If this plane fly as well as your customer service this will be my favorite plane. Customer service any more seems to lack politeness, concern and urgency. This is not the case with you are your company. This Hobby is my fun and release I appreciate your friendliness politeness concern and urgency. Thanks again and look forward to meeting you some day.
Sincerely
Tim Parrish
Bjorn Erik
Thanks so much! The service is just as brilliant as the plane it self!
Videos
Build videos
Episode 1:
Introduction

Episode 2:
In this Episode of PA Builds Hans' covers servo installation and the building of both types of linkages found on PA planes.
Episode 3:
In Episode 3 of PA Builds Hans Kahlert continues explaining the propert techniques and methods of construction your PA ARF. Topics cover include: Installation of the tail, motorbox, and the pull-pull system
Episode 4:
Hans Kahlert continues the build video series with Episode 4.
Topics covered include:
Landing gear assembly
Installation of the Motor, ESC, and air scoops
Cowling alignment and mounting
Installation of the Optional CF Vortex Generators
Episode 5:
Hans Kahlert demonstrates the basics for a good radio setup as well as the methods to properly balance your model and its prop
Soldering Guide:
PA Team Pilot Hans Kahlert continues along the "Builds" series with a special episode covering the proper techniques for soldering electrical components of your model. These methods are applicable for all soldering procedures including servo extensions and battery connectors.
PA recently upgraded the servos that are included with the iPAs packages with better performance in mind. The NXT High Voltage servos are far superior to the Hitec servos that were previously supplied with the models. They are effectively improving the plane performance and as such we felt that its not a good idea to hold on the upgrade of the servos in the iPAs package just because of the servo bays of the models that were just produced was already cut for Hitec. Instead we supply the model with spacers that allow the user to modify the servo bay to fit the NXT servos.
In this video Shaun Vanunu, Designer of PA models is showing how these spacers should be installed
Recommended Props
Thrust 60:
Vox 16×7 wood – This prop is a must-have with the ADXL and is provided in our iPAs Power package. Due to the large size of the ADXL (more drag), this prop is an excellent match with overall performance for fast aerobatics and 3D. The higher pitch and extra punch make it a better choice in a windier day. Great flight speed, faster roll rate, tighter tumbles and waterfalls with the Thrust 60 Revo. The ADXL has a very wide flight envelope from precision aerobatics maneuvers to very slow and easy 3D. the extra flight speed this prop offers is therefore essential, especially in sustaining the flight speed during the transition between maneuvers so you don't lose much of the energy.
Thrust 50:
VOX 15×7 wood – a good conservative prop for sport flying with decent freestyle performance but not good for 3D. It allows very good flight duration (due to the low amp drawn and high efficiency) and is best used in calm weather. Slower roll rate compared to the Vox 15×8. Can be a good propeller for initial flights to get used to the plane (due to the softer throttle range/feel) or if slower speed sport flying is what you're after.
VOX 15×8 wood – This prop is a must-have with the ADXL and is provided in our iPAs Power package. Due to the large size of the ADXL (more drag), this prop is an excellent match with overall performance for fast aerobatics and 3D. The higher pitch and extra punch make it a better choice in a windier day. Great flight speed, faster roll rate, tighter tumbles and waterfalls compared to the Vox 15×7. The ADXL has a very wide flight envelope from precision aerobatics maneuvers to very slow and easy 3D. the extra flight speed this prop offers is therefore essential, especially in sustaining the flight speed during the transition between maneuvers so you don't lose much of the energy. It draws a little more amps than the Vox 15×7 but with the ADXL efficient design and lightweight it still provides an excellent flight duration because less throttle is needed to fly the plane.
VOX 16×6 wood – this is a high range propeller to be used with the Thrust 50 motor. An excellent propeller for low and slow 3D! Keep in mind that this prop offers a LOT of thrust and a bit slower flight speed. That will cause throttle to be twitchier during hovering and harriers, therefore, will require sensitive throttle input. A few clicks of throttle will cause the plane to change altitude, especially, with more aft CG since then the elevator becomes more sensitive as well. That requires more pilot skills to master, therefore, we have done a lot more tests to get the peak in performance and if you choose to use this prop, we advise you to set up the TX with Spoilerons ,as suggested in the manual, and when doing harriers and hovering activate the Spoilerons (on a switch). That will reduce the throttle sensitivity (due to a few aerodynamic effects) and will help the plane to lock-in and not to change altitude easily, especially, during the slower high AOA turns. The excellent ailerons authority allows more stable and controlled hovering (ridiculously easy!), TR and harriers. It requires throttle management (using full power only on vertical climbs/up-lines due to its tremendous thrust). Very nice prop sound, especially while hovering 😉
The 16×6 will allow generally good flight speed but still slower than the Vox 15×8, so if you are more after speed for IMAC, sport or freestyle you may want to consider the Vox 15×8 although we strongly recommend trying one of each.
Start with the Vox 15×8 and then later on, once comfortable with the ADXL, swap the prop to the Vox 16×6 and decide which one you like the best. This will allow you to explore the full potential of the ADXL wide flight envelope.
Note: It is important to accurately balance your propeller prior to installation as poorly balanced propellers are inefficient and cause vibrations which are detrimental to your model and motor. A video showing how to check and balance your prop is available on our website. Use only propellers that are adequately sized to be within the specified limits of your motor.
Warning: Plastic APC "E" props of equivalent sizes are NOT recommended for any of the PA planes as they generate a lot of vibrations being out of balance. They also flex and will draw much higher amps compared to the Vox props at the same sizes being less efficient. Using them instead of the recommended Vox propellers can lead to a motor box failure!!