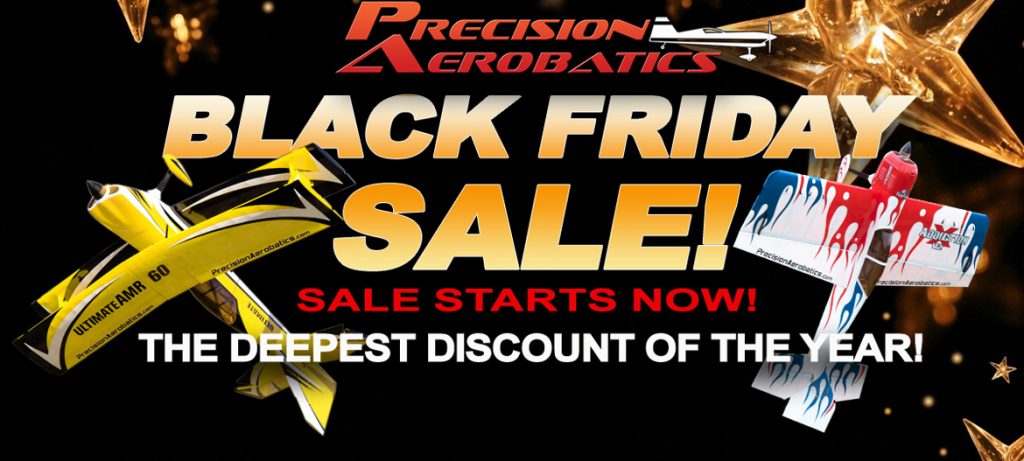 This is an online offer only, sorry – phone orders don't get the discount.
Black Friday sale will start on November 27th and finish at the end of Cyber Monday – November 30th midnight US Est time. During the sale the special price of all participating products will be advertised on our website.
Processing time:

Container just delivered late Wednesday. It will take a few days to go over everything and inventory. We will start processing orders only on Tuesday.

Final quality inspection is done here in the US prior to shipping each order. Before Covid19 Shaun used to travel to China and spend weeks at the factory several times a year inspecting each airplane before it is shipped out. This is a very thorough quality inspection and following that if anything needs more attention it was taken care of right there. This year – because of the virus he was unable to travel to our factory. As a result, your plane will go through final quality inspection prior to shipping which means slower processing of your order. Be assured you'll get a high-quality product in the standard you've come to expect from PA. Just keep in mind, we are not simply sticking a label on your box but rather taking all components out and checking them thoroughly then moving on to packing.

Black Friday means volumes… it will take time; be patient. We will update the status of your order online, and once your order is shipped you will get tracking information from either FedEx and USPS.
No adjustment of previous purchases.
All orders will be shipped from our US warehouse.
Lipo batteries can only be shipped within the US and to CANADA.
Prices, availability, and specifications are subject to change without notice.
Shipping cost may be adjusted at the time of packing.
Our office close at 3pm on Friday and is closed during the weekend. If you require any assistance during the sale, please send us an email to [email protected] If you email us during the sale, we will honor the sale price.
If a color runs out of stock during the sale it may not be correctly showing on the site. If this is the case, we will contact you and offer to change the color of your plane or refund you.
This offer is available to our customers worldwide.
International orders will not be charged for their shipping cost order at the time of checkout. We will issue a payment request for you to complete when the order is packed and shipping cost calculated.
Australian customers – please note ALL our orders are shipped from the US warehouse and are payable per US prices.
Canadian orders will be shipped from our US warehouse. Shipping quoted by USPS. Batteries can only be shipped UPS – we will contact you if shipping charges requires adjustment.