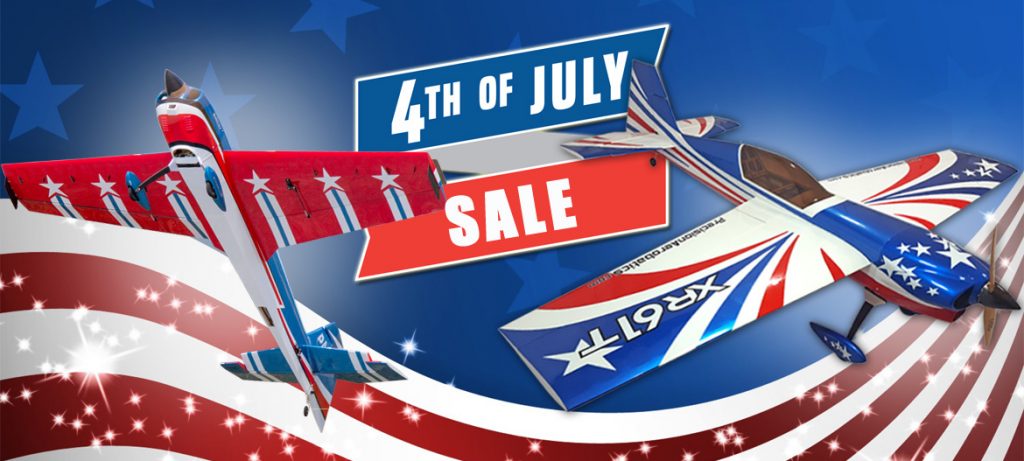 Celebrate 4th of July with a patriotic schemed airplane!
Offer expires Monday! Don't miss out
Sale ends July 6th midnight Est time zone.
Special discount available for online orders only, for items marked on special.
Discount will be applied to subtotal at checkout and is not applicable to shipping fees or gift cards. No multiple discounts.
No adjustment of previous purchases.
All orders will be shipped from our US warehouse.
Lipo batteries can only be shipped within the US.
Prices, availability, and specifications are subject to change without notice.
Shipping cost is estimated and may be adjusted at the time of packing.
Before shipping your order we will inspect the quality of your new airplane. We will check no hardware is missing, verify the paint job and go over a complete quality control checklist. We ask that you'll be patient as we process your order and be sure we will ship your order as soon as its ready.
This offer is available to our customers worldwide. Please note that due to COVID19 we are seeing huge delays in international shipping. Packages takes well over a month to be delivered via priority mail international.
International orders will not be charged for their shipping cost order at the time of checkout. We will issue a payment request for you to complete using either your credit card or your PayPal account when the order is packed and shipping cost calculated.
Australian customers – please note ALL our orders are shipped from the US warehouse and are payable per US prices.
Canadian orders will be shipped from our US warehouse using USPS. If you are in Canada but have a US shipping address it is always easier to ship within the US.
Precision Aerobatics Team