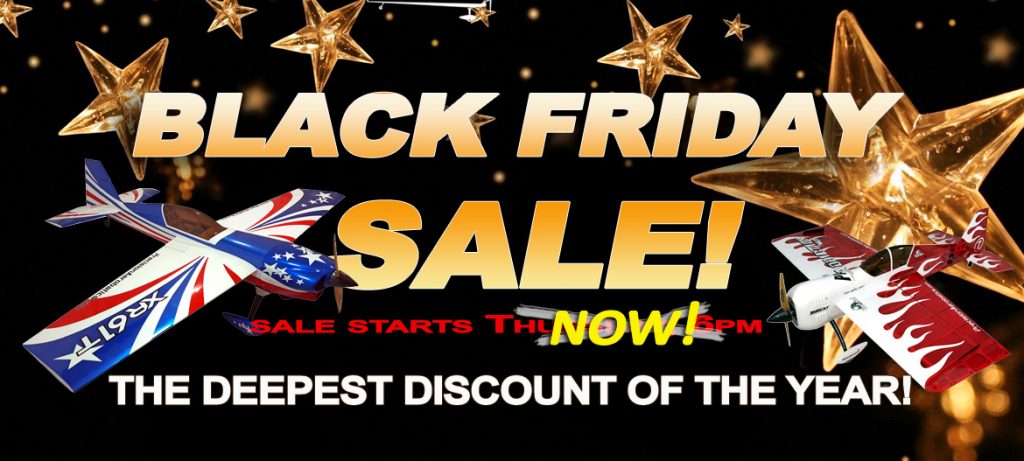 Spoil yourself with the best electric-models available worldwide at a fantastic discount!
Black Friday discount is by far our deepest discount of the year! Don't miss your chance to get a premium product at an awesome deal!
SOME STOCK IS LIMITED, PLEASE ORDER EARLY
This is an online offer only, sorry – phone orders don't get the discount.
Black Friday sale will start on November 27th and finish at the end of Cyber Monday – December 3nd midnight Est time. During the sale the special price of all participating products will be advertised on our website.
In observance of Thanksgiving holiday, all Black Friday orders will start shipping Monday Dec 2nd .
No adjustment of previous purchases.
All orders will be shipped from our US warehouse.
Lipo batteries can only be shipped within the US.
Prices, availability, and specifications are subject to change without notice.
Shipping cost may be adjusted at the time of packing.
Our office close at 3pm on Friday and is closed during the weekend. If you require any assistance during the sale, please send us an email to [email protected] If you email us during the sale, we will honor the sale price.
If a color runs out of stock during the sale it may not be correctly showing on the site. If this is the case we will contact you and offer to change the color of your plane or refund you.
Some items are indicated on the site as coming into stock on December 6th. These will participate in our special offer and will be shipped upon arrival. If you order an item that is arriving to stock December 6th – we will ship your entire order together and will not split it.
This offer is available to our customers worldwide.
International orders will not be charged for their shipping cost order at the time of checkout. We will issue a PayPal request for you to complete using either your credit card or your PayPal account when the order is packed and shipping cost calculated.
Australian customers – please note ALL our orders are shipped from the US warehouse and are payable per US prices.
Canadian orders will be shipped from our US warehouse using USPS. If you are in Canada but have a US shipping address it is always easier to ship within the US.
Please note: during Black Friday sale we experience high volume of orders. We process them as quickly as we can. Please allow a week for all US orders to be shipped. We will update the status of your order online, and once your order is shipped you will get tracking information from either FedEx and USPS.
If you have any questions regarding your order please email [email protected] so we can answer your questions directly and promptly.
Precision Aerobatics Team